J-Jaz

Overview
High-end luxurious jewelry company J-Jaz ordered a modern custom website on Magento platform in order to expand its brand awareness, successfully establish online presence, and rise above the competitors. New website had to have positive user experience, intuitive navigation, clean lines and ability to present the upscale jewelry pieces in the most attractive way. The primary goal was to reflect successfully J-Jaz desire to offer only high-quality jewelry pieces and to increase turnout, as well as conversion rate.

Our process
We started working on this project by outlining the features, necessary for making new custom jewelry Magento store as user-friendly as possible, facilitating the navigation and adding tools that can help users find the item they are looking for as easily as possible. In order to achieve this goal, we added multiple categories, possibility to compare items, add products to the wish list, as well as an option to select accessories, such as designer gift boxes and jewelry bags to go with the gorgeous jewelry pieces, offered by J-Jaz. As a result, we managed to create a unique and striking website design that presents the glamourous jewelry pieces in the most advantageous way, as well as provides positive user experience, attracting customers and boosting the conversion rate.

Features
Apart from stunningly beautiful and professional-looking design, custom jewelry Magento store created for J-Jaz boasts multitude of useful features. For instance, users can take advantage of filter that allows them to find the item they are looking for in no time and use one-step checkout to complete their order. Owners of the store can add limitless amount of products and descriptions, which improves chances of being found by potential customers through search engines. New store has helped J-Jaz company stand out from the crowd as well as to attract new customers, boosting their sales.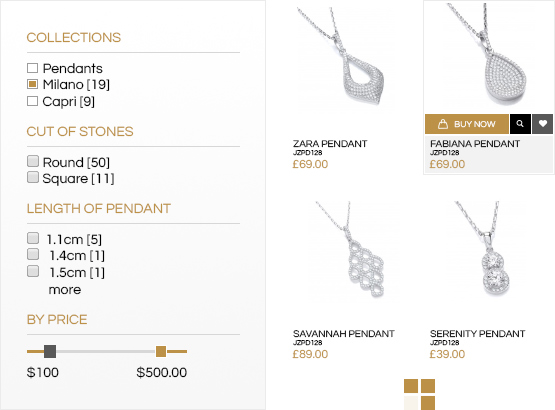 Custom left columnProducts loader